Site notice
Welcome! Please check To-Do List to see what pages need help, who is working on what, etc.
Dr. Cossack
From Mega Man Wiki

Dr. Mikhail Sergeyevich Cossack is a supporting character in the Classic era, first appearing in Mega Man 4. He is a Russian robotics scientist and colleague of Dr. Light, occasionally collaborating on projects with him. Though originally cast as a villain, he is later revealed to have been manipulated by Dr. Wily and becomes an ally to Mega Man.
In the Games
Mega Man 4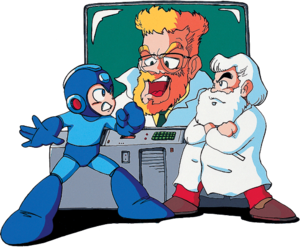 Dr. Cossack makes his most significant appearance in Mega Man 4, where he plays the role of the ostensible main villain, sending out a threat that he intends to destroy Mega Man with eight powerful Robot Masters so that the world will recognise his genius. Receiving the message as his lab, Dr. Light sends out Mega Man to stop Cossack's robots and the doctor himself, who is controlling operations from his citadel in Siberia.[1]
After defeating the eight Robot Masters, Dr. Cossack's portrait appears on the stage select screen, granting access to his citadel. Cossack eventually shows himself in Dr. Cossack stage 4, piloting the Cossack Catcher, a giant claw machine robot that he uses against Mega Man. However, when Mega Man is about to destroy the machine, Proto Man teleports in with Cossack's daughter, Kalinka, in tow. She explains that her father is not really evil and was forced to fight Mega Man by Dr. Wily, who kidnapped her in order to blackmail him.
Relieved that his daughter is safe, Dr. Cossack jumps out of the Cossack Catcher before it explodes, reuniting with her and asking Mega Man's forgiveness.
Mega Man 5
Dr. Cossack reappears as an ally to Mega Man in Mega Man 5, where he takes over as Mega Man's mission operator after Dr. Light is seemingly kidnapped by Proto Man. Though he is not seen in the game itself, he is quoted in the manual, communicating with Mega Man to provide information about his mission. He also upgrades Mega Man's reactor to increase the power of the Mega Buster, which fires much bigger charge shots in this game.[2]
The game also marks the first appearance of Beat, a robotic bird that Dr. Cossack and Dr. Light had been collaborating on as a "special project" prior to the game's events. Cossack tells Mega Man that Beat could be of assistance to him, but explains that the bird is not yet completed, requiring the Beat parts that are strewn about the game's stages and must be collected by Mega Man.[2]
Wily & Right no RockBoard: That's Paradise
In the Japan-only digital board game Wily & Right no RockBoard: That's Paradise, Dr. Cossack is one of the characters the player can choose to play as. The playable characters play largely the same, though they have different story goals and endings, with Cossack aiming to earn money to put towards his scientific research.
Rockman Xover
In the defunct mobile game Rockman Xover, Dr. Cossack is mentioned alongside Dr. Light as one of the creators of OVER-1, a reploid serving as the game's protagonist. His daughter Kalinka also appears as OVER-1's Navigator, explaining game concepts to the player.
Mega Man 11
In Mega Man 11, Dr. Cossack again does not appear directly, but is referenced as the creator of the Robot Master Tundra Man through his company, Cossack Robot Laboratories.
Official Data
Dr. Cossack appears under "Mega Man 4" in the Database in Mega Man Legacy Collection, where he is the second-to-last entry listed, after Mega Man. He is one of only two human characters explicitly included in the Database, the other being Kalinka.
Dr. Cossack
Dr. Cossack- It at first seems as though, like Dr. Wily, he is plotting to take over the world, but in truth, he's being manipulated by Dr. Wily, who kidnapped his daughter, Kalinka.
HP 00
AT 00
 N/A
Trivia
Beat's entry in the Mega Man & Bass CD Data Base entry suggests that Dr. Cossack is the robot bird's sole creator, presenting him to Mega Man as a gift, rather than working on him together with Dr. Light.
References